Breda developed the B12i to be an excellent shotgun "competition-ready", without need for further modifications. Conceived and designed to meet the necessities of the most exhigent shooters, B12i borns equipped with multiple strengths needed for the sports platform for which it is designed.
Particularly, the B12i study emphasized the importance of kinematic speed, leading to the creation of a shogun that overcome, in terms of speed of the firing cycle, most of the out-of-the-box shotguns present on the market.
The shotgun is used by professionals all over the world and has been chosen by several Shooting Teams in shotgun category for IPSC competitions in standard and modified categories.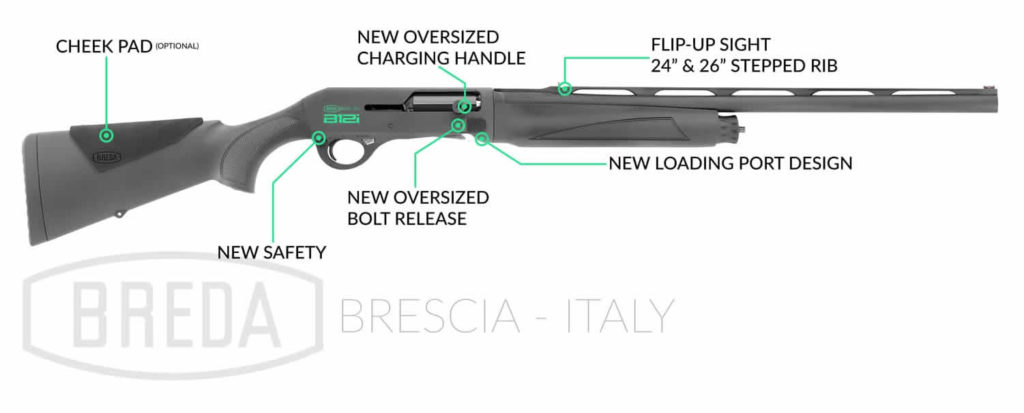 Series B12i
BREDA has long been a brand known and appreciated by shooters at an international level, mainly for the B12i sports shotgun, which has soon become the flagship product chosen as official shotgun by world-renowned professionals and experienced international shooting teams.
In fact, B12i is a shotgun "competition-ready", that does not need further changes to be made to it in order to be used in the shooting ranges. Its excellent performance, combined with the gritty and captivating design, make it a sporting shotgun of great visual impact and excellent functionality.
In 2019, Breda introduced significant implementations and improvements, that made the B12i sports shotgun a highly professional tool for sportsmen from all over the world.
It's the begin of the third generation of B12i range of shotguns for dynamic shooting, based particularly on the improvement of some technical details:
· advanced loading port, compared to the previous model, in terms of quad load feeling;
· new design of the bolt release button, to reduce the interference during the loading operation in quad-loading mode;
· enlargement of the ejection port;
· flip-up sight included in the 24" and 26" stepped rib barrel lengths;
· new safety button design for a quicker activation
Further to these technical implementations, there's the additional enlargement of the offer of versions with different finishes, of great appeal and undisputed quality. This thanks to the choice as a partner of the well-known brand Cerakote, the world leader in high temperature ceramic coatings, capable of ensuring to products a high chemical and thermal resistance, as well as to abrasion, wear and corrosion.
B12i is available in Cerakote finishes in light grey, dark grey and camouflage pattern.
| | |
| --- | --- |
| Mechanism | Semiautomatic shotgun inertia system |
| Locking system | By rotating locking head |
| Gauge | 12 gauge |
| Chamber | 76mm 3" Magnum |
| Stock and fore-end | In 3-component technopolymer: nylon, glass fiber and elastomer. Soft-Touch finish for better grip even in bad weather conditions |
| Drop at heel | Right and left; 55 mounted, 60 and 50 available in the case |
| Receiver | In high performance aluminum alloy 7075T6, machined from billet |
| Receiver finishing | The surface is sandblasted by steel spheres. The receiver has been made opaque and subsequently black-anodized. The deep engraving "B12i" and BREDA logo are hand filled by green ink |
| Sight | High luminosity fiber optic by LPA |
| Safety | Transverse button behind the trigger with red "ready to shoot" signal |
| Trigger guard | Made by black technopolymer |
| TRIGGER WEIGHT | Trigger pull of about 5,9lbs |
| RECOIL PAD | High density pad made by Cervellati |
| Magazine | 4 rounds of 12/76mm 3" without removable plug, 2 rounds with plug fitted |
| Weight | 3,1 kg, 28'' barrel fitted |
| BARREL LENGHT AVAILABLE | Stepped rib: 47cm (18,5"), 71cm (28"), 76cm (30"); stepped wide rib with LPA flip-up sight: 61cm (24"), 66cm (26"). Internal chokes and steel shot test included |
| STANDARD EQUIPMENT | Delivered in ABS case, 5 chokes and choke key included and sling swivels detachable |