930I Black is the Breda semiautomatic that makes of its versatility the  answer at 360 ° to the needs of shooters and hunters.
Strengthened by its roots in the hunting sector, 930i has been enriched in every detail to offer technical solutions that satisfy shooters all over the world who want to practice Sporting discipline in a professional way.
The adjustable comb is essential for adapting the stock in a millimetric way to the feature of the shooter who needs a dedicated and precise sight setting. Modifications may affect the rise and cast of the wooden cheek pad.
Another point of strenght is the trigger group entirely CNC machined from solid billet made of ergal, with high performance of mechanical resistance and lightness. This wonderful chassis allows to perform Chartusian and professional customizations for the most exhigent top shooters.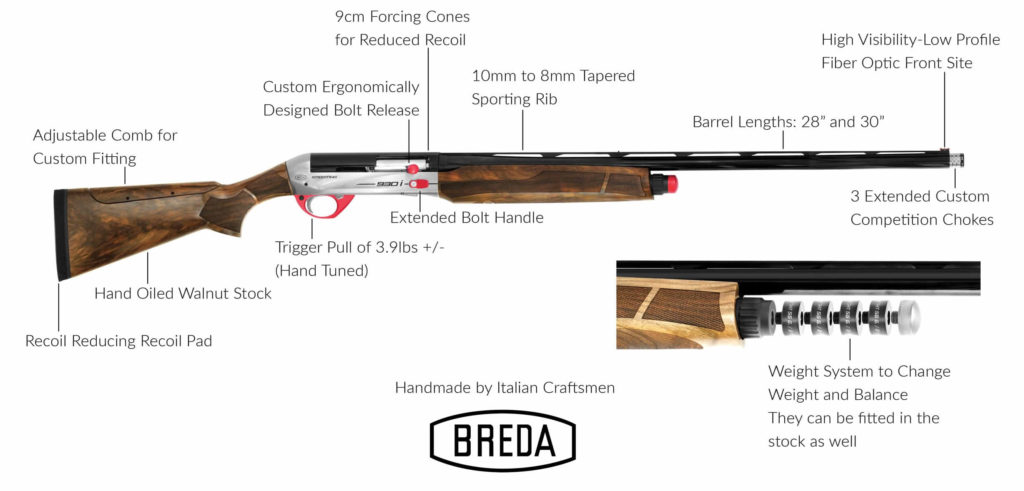 Series 930i
The decades-long experience in the production of shotguns for sport shooting and the advantageous collaboration with experienced shooters from all over the world allowed Breda to develop the model 930i, considered by everybody to be the out-of-the-box semi-automatic technical shotgun for professionals.
What are the needs of shooters to whom the 930i sporting offers concrete answers? As first, the research for a fast and intuitive shotgun on the target; secondly, the possibility for the shooter to adjust the shotgun according to his needs.
Thus born the Breda 930i, the shotgun for sport shooting enriched in every small detail with cutting-edge technical solutions, supplied with an oversized bolt handle, an improved ergonomic button, additional weights, adjustable stock at comb included, long forcing cones for less recoil and higher stability.
Entirely produced and assembled in Italy, in the well-known arms district of Brescia area, BREDA 930I is the ideal choice for those who want a high-profile semi-automatic.
The 930i shotgun for sport shooting uses inertial technology to improve reliability, safety and shotgun ease of use. It is also important to point out that the Breda 930i is the first inertial semi-automatic developed since its origin expressly for clay shooting: it born a well-balanced shooting shotgun, characterised by the natural target speed of the tapered rib, able to offer a pleasant feeling of mastery of the instrument that becomes almost an extension of the shooter's body.
Available with barrel lengths of 71cm and 76cm and including in the set 3 internal/external chokes 9cm lenght (7cm IN and 2cm OUT) full conic inner profile. The barrel is drilled 18.5 and honed using special ceramic inserts up to 18.6 / 18.65, top quality, while the Cervellati recoil pad offers high performance.
Three are the colour variants in the catalogue: with black, blue or red details. Furthermore, ever more frequently we receive requests for personalization by sportsmen from all over the world, that engage our master gunsmiths to create truly exceptional variants of this sports shotgun branded Breda.
| | |
| --- | --- |
| Functioning | Semiautomatic shotgun inertia system |
| Locking system | By rotating locking head |
| Gauge | 12 gauge |
| Chamber | 76mm, 3'' Magnum |
| Stock and fore-end | Semi fancy walnut, oil finished. Sporting checkering for a strong grip |
| Drop at heel | Right and left shim fitted; adjustable stock at comb |
| Receiver | In high performance aluminum alloy 7075T6, machined from billet |
| Receiver finishing | Both upper and lower receiver have bright surface as they're hand polished; the full receiver is then black anodised. The engravings are hand filled by a silver ink and fixed in the oven |
| Sight | High luminosity fiber optic by LPA fitted at the very end of the rib |
| Safety | Transverse botton behind the trigger with red "ready to shoot" signal |
| Trigger guard | Made of solid aluminum billet machined. The frame of the trigger mechanism is realized with the same characteristics as the receiver to achieve the top quality. Customized tuning for a quicker and lighter trigger compared to an hunting shotgun |
| Trigger weight | Trigger pull of 3.9lbs +/- (Hand Tuned) |
| Recoil pad | High density pad made by Cervellati |
| Magazine | 4 rounds of 12/76mm 3" without removable plug, 2 rounds with plug fitted |
| Weight | 3,1 kg, 28'' barrel fitted. Extra weights included in the case; they can be mount inside the stock or at the end of forearm. In such way you can manage the total weight of the gun or change only the balance itself |
| Barrel lenght available | 28" and 30"; 10mm to 8mm tapered sporting rib; back-bored to .72" for improved patterns, 9cm forcing cones for reduced recoil |
| Standard equipment | Delivered in ABS case, 3 extended IN/OUT chokes (IM, M, IC) and choke key included and sling swivels detachable |